Fiscal Transparency: Essential for Puerto Rico's Future
As Puerto Rico like the rest of the nation looks to rebound economically from the COVID-19 pandemic, fiscal transparency is key to attracting business and investment back to the island.
The island has a strong opportunity to build upon its already well-established pharmaceutical and medical equipment presence, as conversations about bringing back more of the supply chain to domestic production reverberate around Washington, DC.
But to do that, the Puerto Rico government must establish itself as financially responsible and fiscally transparent. In the Global Right to Information Index (RTI Rating) prepared by the Center for Law and Democracy (CLD) — and which compares access to information in 128 countries — Puerto Rico ranks 87th.
The issue of government transparency and accountability has also in part contributed to billions in approved disaster relief being held by federal agencies instead of released to the Puerto Rico government.
In addition to the need to improve fiscal transparency within the Puerto Rico government, the government is in the midst of attempting to modernize its energy utility PREPA and move forward with its multi-year energy transformation plan that seeks to address an ailing energy infrastructure, which received an F grading. To do that:
Delays must be cleared away towards finalizing the PREPA restructuring agreement, which has over 90% of bondholder support.
The government can eventually return to bond issuance, a critical way municipalities fund day-to-day operations, municipal projects and attract investment, but first must work with bondholders to restructure its debt.
Below are some articles exploring these issues:
Puerto Rico Seizes on Junk-Bond Rally With $1.8 Billion Sale
(Bloomberg, 4/8/21)
Puerto Rico Treasury Assures Commonwealth is Getting its Financial Act Together
(Caribbean Business, 3/4/21)
Puerto Rico tries to pave the road to sell new bonds
(The Bond Buyer, 3/1/21)
Puerto Rico board takes steps to advance audited financials: An outside consultant provided recommendations on how the commonwealth can catch up on its long-delayed financial reporting, including a multi-year CAFR
(The Bond Buyer, 2/26/21)
$832 Million in Attorney Fees for Puerto Rico Bankruptcy Process: 51.9 percent for the FOMB; 32.4 percent for the central government
(The Weekly Journal, 1/27/21)
Overdue 2017 Commonwealth Audit Submitted
(Caribbean Business, 9/8/20)
Federal warnings cause further delays in the post-María recovery process in Puerto Rico: COR3 confirms it will not disburse pending funds to agencies until they certify they have resolved all of the indications found in audits by the U.S. Office of the Inspector General
(Caribbean Business, 8/10/20)
Carter, Scott Introduce Proposal to Encourage America's Pharmaceutical Independence: Made In America Act Creates New Tax Incentive in Opportunity Zones to Bring Pharmaceutical Manufacturing Back to the United States
(Office of U.S. Rep. Earl "Buddy" Carter, 5/21/20)
Bring the Drug Industry Back to Puerto Rico (opinion)
(The Wall Street Journal, 5/20/20)
Puerto Rico Governor Backs Tax-Incentive Bill for Drugmakers
(Bloomberg, 5/12/20)
Study reveals that Puerto Rico's transparency laws are worse than in most countries: Puerto Rico ranked 87th in comparison to 128 other countries
(Caribbean Business, 5/15/20)
Regaining credibility in Washington
(El Nuevo Dia, 3/6/20)
Puerto Rico Utility Deal Stumbles, Shaking Muni Investors
(The Wall Street Journal, 3/2/20)
A Reasonable Proposal: How US Law Allows Puerto Rico's Legal Bills to Flourish
(Debtwire, 10/9/19)
"[C]urrent estimates predict the total bill for lawyers and advisors [defined as 'pay to professionals tasked with providing the island with advice'] to reach $1.5 billion through 2024."
Related Information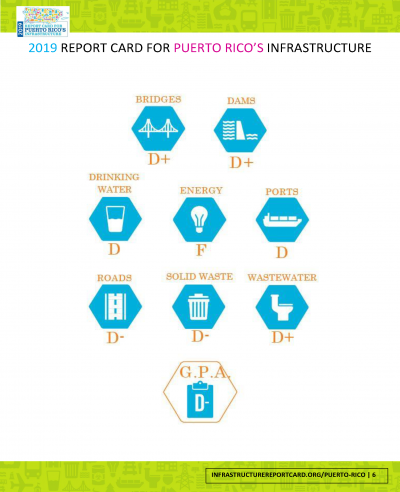 Source: Infrastructure Report Card (American Society of Civil Engineers Puerto Rico Section, 2019)