Municipal Funding: Critical to America's Economic Growth
As the Puerto Rico government enters its 4th year of bankruptcy proceedings under the supervision of the federally appointed Oversight Board (at a cost of hundreds of millions of dollars funded by taxpayers), it is useful to understand what role municipal funding plays in economic revitalization efforts.
It has been demonstrated that for each infrastructure dollar spent, there is a significant return on that municipal investment. S&P Global Ratings' Chief Economist recently estimated that for a $2 trillion investment in infrastructure, it could generate a multiplier of 2.7.**
Conversely, the National League of Cities put out a report that stated that the opposite holds true when municipal investment dries up and unemployment rises; for each one percentage point rise in unemployment, a 3 percentage point budget shortfall occurs.***
According to a recent article in Governing, "state and local spending represents nearly a fifth of [national] GDP. Deep cuts could create a sizable drag on the economic recovery. Every dollar cut by states during the Great Recession reduced economic activity by $1.70, according to a Harvard study published last year."
What compounds the pressing issue is our aging infrastructure. America's bridges, dams, roads, water and sewage systems need maintenance and modernization. We saw what happened recently in the state of Michigan with the failing of a dam (the nation's dams received a D grade from the American Society of Civil Engineers).
We can put people back to work repairing America's roads, bridges, dams and water and sewer. Puerto Rico can help with safeguarding our pharmaceutical and medical supply chain and continue to thrive as a pharmaceutical and medical equipment producer along with creating other manufacturing jobs. But all of this requires coordinated federal investment and support and the clearing away of roadblocks such as costly and inefficient municipal bankruptcy proceedings that only impede progress for municipalities rather than create opportunities.
Below are some articles exploring these issues:
No better time to modernize America's energy infrastructure (opinion)
(The Hill, 5/26/20)
Carter, Scott Introduce Proposal to Encourage America's Pharmaceutical Independence: Made In America Act Creates New Tax Incentive in Opportunity Zones to Bring Pharmaceutical Manufacturing Back to the United States
(Office of U.S. Rep. Earl "Buddy" Carter, 5/21/20)
A Stimulus Proposal Emerges From The Ashes With GOP Support: Infrastructure Spending
(Forbes, 5/21/20)
Menendez, Cassidy Introduce Bipartisan SMART Fund to Help Frontline States, Communities in COVID-19 Fight: Manchin, Hyde-Smith, Booker, Collins sign on as bipartisan original cosponsors
(Office of Senator Bob Menendez, 5/18/20)
Powell warns of a possible sustained recession from pandemic
(The Associated Press, 5/13/20)
Economic Research: Infrastructure: What Once Was Lost Can Now Be Found–The Productivity Boost
(S&P Global Ratings, 5/6/20)
Puerto Rico is shovel-ready for the COVID-19 recovery (opinion)
(The Hill, 5/13/20)
Request for Federal Aid to States, Territories and Local Governments to Compensate for Lost Revenues (Letter)
(Letter to Congress from CSG, GFOA, NAST, NCSL & NASACT, 5/11/20)
Related Information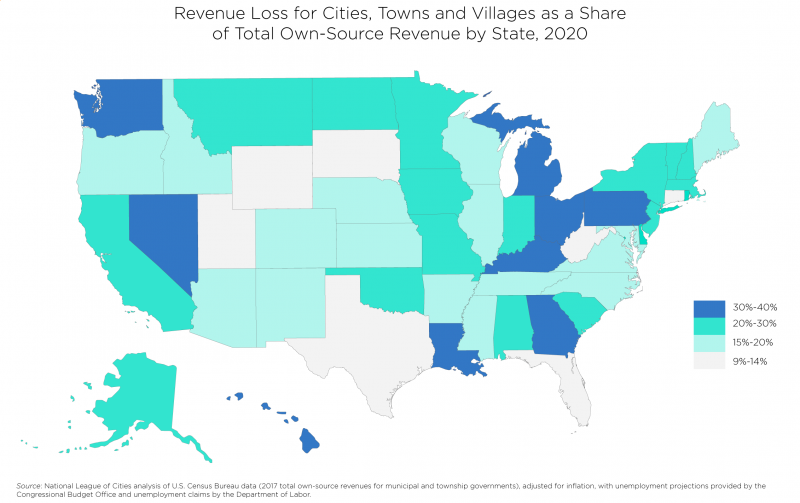 Source: Cities Anticipate $360 Billion Revenue Shortfall (National League of Cities, 5/14/20)
** S&P Global Ratings' Chief U.S Economist Beth Ann Bovino estimates that a $2 trillion boost of public infrastructure spending over a 10-year period could boost the U.S. economy by as much as $5.7 trillion over that time period and create 2.3 million jobs by 2024. In a recent interview, Ms. Bovino said: "The multiplier for infrastructure spending, for example, had been estimated to average around 2 according to an earlier Fed study. That would mean that the multiplier will be even larger the more flex there was in the economy. So in our scenario where we have a $2 trillion investment, we saw that generating a multiplier of 2.7. Or in other words, in terms of return on that investment, that means that for every dollar spent, the economy's return on investment will be $2.70. That seems like a very good opportunity to take on."
*** To illustrate the point of why federal investment in municipalities is crucial right now to supporting the health of the US economy, according to the National League of Cities report the state of Pennsylvania is projected to have a 40% shortfall in revenues and a 12% increase in unemployment in 2020 when compared to before the onset of the COVID epidemic; Pennsylvania's fiscal structure results in revenue losses at 3.3 percentage points per 1 percentage point increase in unemployment.